Boost reputation, provide better care & reduce cost
Patient Journey, Care Pathway & Engagement
Platform for Healthcare Organisations: Manage demand, promote health campaigns, improve efficiency, provide better patient experience and more!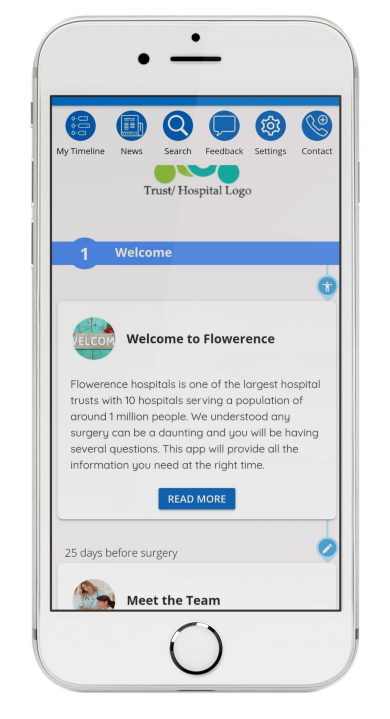 Revolutionise Engagement & Patient Journey
Help visitors and patients to familiarise themselves with the hospital and their treatment options.
Engage with patients in a new way using the custom branded patients pathway app.
Boost Reputation and Foster Loyalty
Impress patients and visitors with information they need at fingertips
Cost Saving
Well informed patients use services when required in an efficient manner
Improve Efficiency & Self Care
Split patient information into an interactive time line and use push notification for offering the right advice at the right time
Minimise Demand on Services
With information available at their fingertips, patient demands can be brought down drastically while providing better service
Superior Patient Experience
Tools for patients to engage and reflect back on the experience.  Ask question, create surveys and constantly upgrade the service
Promote Health Campaigns
Encourage awareness of a healthy lifestyle and promote campaigns. Ex. Push articles on drug abuse or diabetic care
Progress Tracker
Let your patients track their progress with graphs and visuals. Examples include postoperative pain management, diet or exercise patterns etc.
Visuals, Audio & Video
Easily add photos, video or audio contents. Example includes photo of the caring team, aftercare exercise videos, motivational audio etc.
Automated Questions
Get automated patient feedback by asking relevant questions regarding the conditions (ex. pain level or mood level) and answers with pre-set advice, videos or charts.
General Information & Directions
News, contacts, maps, directions all at one place. Help patients and visitors to navigate your facility reducing stress levels.
News, Info & Social Channels
Engage patients in the community. Reduce isolation & promote support.
Dynamic Timeline
Avoid hard copy patient information brochures with a dynamic timeline about the next steps in the treatment or aftercare. Provide relevant information at the right time.
Push Notifications
Use automated push notifications to provide information, updates and reminders. Examples include to stop eating and drinking prior to surgery, to do exercises, advice for carers etc.
Surveys & Feedback
You can create your own surveys with questions relevant to your organisation or service and get facts for right decision making. Includes prebuilt surveys to automate FFT compliance.
Self Care Guidelines
Educate, engage, build confidence and promote self care with dynamic timeline. Example: Health and wellness guides for new mothers, diabetic care, mood management etc
Powerful Management Console
Change the patient information and app content in real time with our easy to use content management system
Fully hosted solution with no internal IT implementation required
Manage Users With Role Based Access Control
Allocate user access according to preference
Track Patient Progress From Your Desktop
Be the first to know if something going wrong
Powerful Reports & Report Builder
Use the inbuilt templates or create your own
Analyse Feedback
Get facts for making right decisions
Add/ Edit Surveys
Use prebuilt surveys or design using survey builder
App Usage Statistics
Real time insight on app activity and downloads
Unlimited Users, Surveys and Feedback
Automate FFT compliance
Multi language
Could work as a central repository for all feedback
Inbuilt templates
Easy to use editor to add/ edit questions
Automate FFT compliance
Supports Audio and Video playback
Data Export & Powerful Reports
Manage Demand on Healthcare Services
Educate. Engage. Build Confidence. Foster Self Care
Publish and push health literature to promote self-caring, potentially saving money for the organisation. Example: Health and wellness guides for new mothers, know-how about caring for a new baby, diabetic care, alcohol/ drug abuse warning, antibiotic guidelines etc
Enhanced Service & Superior Patient Experience
Offer your patients all the information and advice they need
Contacts, maps, directions at one place
Engage with patients in the community
Reduce A&E waiting time
Assist patients and visitors to easily navigate your facility
Promote insightful messages and maps at entrances with geofencing
Surveys & feedback for patients to reflect back on the service quality
Boost Reputation and Foster Loyalty
While Slashing Costs
Impress patients & visitors with all the information they need at their fingertips.
Provides the platform for users to connect, have their voice heard and build loyalty.
Feedback and surveys for management to take informed decisions based on facts.
Reduce patient isolation & promote support
Why Us ?
Enterprise-class, white label mobile apps
Quick turnaround time – App goes live in weeks
Update the contents from control panel
Fully hosted solution. No internal IT implementation required
Comprehensive support and free upgrades
Fully branded for your organisation
Automation to save time and money
Powerful reporting tools, unlimited users, surveys and feedback
Simple, easy to use interface
Ready to integrate with your internal systems